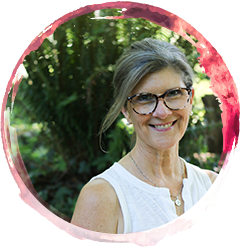 Christine is a human-potential champion. She believes that stress is optional and when understood can be utilized to source the next brilliant opportunity in one or more life areas. Others describe her as the master motivator and influencer to tap into the next best version of you. She is the go-to reset coach for nudging clients forward to get from where they are to where they crave to be, while tapping into new levels of vibrancy. She works with individuals and organizations from a solutions-based approach to shift their focus from what they don't want to inspired-action for what they do want. This involves learning proven success principles from her training with international professional development leaders; sharing her own business and life acumen from an eclectic career; implementing simple, yet powerfully methodical and creative systems; and, focusing forward utilizing the 3C's – commitments, conversations and choices. Her clients' results are a complete reset with intentional, clear focus on purposeful productivity, increased vibrancy, goal-achieving and a solutions-focused approach for prosperity in all life areas, daily.
Christine's acumen encompasses: Extensive, on-going training from international leaders (Jack Canfield, Bob Proctor). Her eclectic career experience includes: Published author; international podcast host; success raising millions in sponsorship for world-class events; co-producing world-class (sports and culture up to 80,000+ attendees); owner, four-city human-potential series with 300+ international speakers, sponsors – Discovery Health Channel, Chatelaine Magazine, Indigo/Chapters, Vitamin House Chain, Ethical Funds; national marketing and promotion campaigns; managing a crown corporation funded, non-profit member association for international trade.
Notable Highlights
Trainer, virtual workshops, Chartered Professionals Human Resources Association and corporate clients
Founder, eLearning self-directed platform  http://stressisoptional.net
Leader, Virtual Influence Mastermind Group (2014-2019 national)
Success Coach, International Success Institute, eWomen Network
Author, HeartBroke: One Entrepreneurs Journey from Near-Death
Creator national self-development series, 300+ international experts
Podcast Host, Stress is Optional
Negotiated inaugural funding West Vancouver summer concert series, Cheryl Crowe/Bob Dylan
Negotiated Panasonic, 2010 Winter Olympics sponsor, West Vancouver
Negotiated, produced 500k contract; inaugural VIP Suite, Pit Boxes, Vancouver Molson Indy
Negotiated, produced food+beverage; Hydroplane Races/80,000 attendees
Co-produced Vancouver Snow Show, 30,000 attendees / $275k+ media sponsors
Awarded contract to produced YVR International Terminal Dignitary Dinner/$250k+sponsors
Produced first province-wide B.C. Micro Brewery liquor stores campaign
Produced BC Wine Institute four-day international media wine tour
My Mission
provoke conversations for the purpose of  creating a societal shift from stress is normal to stress is optional.
My mission is to provoke each of you to question society's current mindset that stress is normal. As you question the global addiction to stress and become aware of your role in perpetuating this mindset, you can then shift your approach and commitment to Stress is Optional. This is done through the 3C's of Communication. As you make this shift, you influence the collective reset for a global shift to Stress is Optional.  It comes down to a commitment to live your core values in your business and personal life, which is entirely possible. The next best version of you is then revealed as you say no to culturally ingrained, fear-fueled, time-worry and exhausting what if's which rob you of ease, vibrancy and prosperity in all life areas.
My Philosophy…
provide the most valuable content, in least amount of time, for greatest reset results, one client at a time.
Providing concise content for manageable implementation to enhance versus diminish your life experience is my approach for you to witness  lasting change. I want you to experience cumulative, daily successes instead of instant gratification band-aids. Band-aids perpetuate and reinforce stress-addiction-not much fun. Reset is packaged differently based on your goals. The common denominator is your internal shift from fear/stress to ease and sufficiency for your ideal. It means you need to slow down to move ahead. My mantra of sorts is lead as you would like to follow...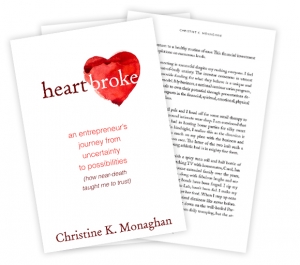 HeartBroke – Ebook version $5.99
Order Direct
After purchase, you will receive a download that contains a pdf, a mobi, and an epub file so that you can choose the right one for your e-reading device.
My Coaching Practice
I opened my coaching practice doors in 2004. It wasn't a planned career move however, it continues to be one of the most positive and fulfilling resets in my eclectic career. I was in reset mode after a near-death experience which I share the entire story including walking away from a million dollar investor, closing my business and doing my own reset in my book, HeartBroke. It was really about growing into the next best version of me! I had a choice. Would I allow this to define me and become my story of woe OR utilize some pretty challenging circumstances to create the next best version of me and then influence others to do the same? Day by day, I focused entirely on what my ideal would be, one commitment, one conversation, one choice at a time.
Since then, I have completed and up-leveled my professional training in coaching, mindset training and goal-achieving from some of the most recognized and sought after experts in professional and personal development (Jack Canfield, Bob Proctor, Coach from Spirit Institute). I've influenced 1000+ clients in individual and group settings to reset their lives toward what they do want and how they do want to feel on a daily basis. I created an approach for clients to reset and witness immediate results through the 3C's of Communication.
My clients are leaders of 1-10,000+, ambitious, motivated and considered a success by peers and friends. You hold high levels of responsibility in all life areas. Despite daily due diligence, your repetitive inner voice says "just get through this project, deadline, then you will…" Of course, another deadline arises. More and more, your normal experience is: pressure to complete unrealistic to-do's; new projects on top of current workload; and, the majority of time spent working in vs on your leadership role and life. Your result = feeling compromised, a dulled vibrancy and ever-present sense of wearing stress. Your conversations, commitments, choices reflect this. You wonder what happened and when. Self-care and relationships are absolutely compromised. You crave a reset, knowing there is so much untapped potential within plus you crave to live your ideal lifestyle now. You ponder it – internally trying and map it out, perhaps even pushing yourself harder to create it, yet the needle really doesn't move. Perhaps, out of exhaustion, you default into "it's not so bad, I have a good enough life". Until it niggles at you once again. You are not stuck, you are afraid of all the "what if's". You are not broken, you need a reset to take the things you are really good and plus enjoy and move forward to create the next best version of you.
My 3C's Approach
…One day you get it! Your conversations, commitments and choices are not supporting your desired life experience. You begin to understand that optimum performance in all life areas starts with taking 100% responsibility for what is showing up, internally and externally, period. This involves complete ownership of your thoughts, attitude and stories you create about you and others. As you become aware of what you are creating (good or not good) through your commitments, conversations, choices,  you will surface worn-out habits. This give you the opportunity to reset them for ones' that serve you and others in the highest good. A reset gives you permission to create fresh possibilities and move toward what you truly crave, your ideal life. As you trade in worn-out states of being, depletion, overwhelm from relentless to do's, stress and struggle, you create the space for vibrant energy, clear minded prosperity, ease in what the next best step is. This becomes you new normal, the next best version of you. It is the result of 100% showing up for you and claiming your worth and value on new levels!