Reset MasterPlan 
…

 grow into the next best version of you
The Reset MasterPlan process moves you from where you are to where you crave to be! You understand your value and are considered successful by others, yet you crave and expect more for yourself, for your life! You want to feel vibrant energy in your daily experience, knowing you are creating your ideal life. The Reset MasterPlan is a proven process that has worked for 100's of individuals who needed a champion and knudge forward when doubting how or where to start witnessing lasting, positive changes. This creative, pragmatic, intuitive process is:
A 1:1 co-creation with you and me which will absolutely renew your belief in what is possible for you with tangible, weekly results
Implemented through my 4-Step Time-Management System which literally re-programs old worn out habits to goal-achieve
The permission you need to show up for you by setting a C-Goal – mutually exciting and nerve-wracking through a methodical approach
Certainly going to up-level your mindset, shifting you into 100% expectancy to receive what you do want
Results-based by slowing down to move ahead
What's Involved in the Reset MasterPlan process? It takes place via virtual video-conference sessions or telephone calls – your choice. It is interactive, invigorating and result-oriented. Each call we review your action items from last call, then move onto the next step in the collaborative process. You will learn proven success principles and solutions tools for noticeable results from week one onward. The process involves:
A Reset MasterPlan template (you can update this every quarter or year!)
   3 Commitments for each goal; this makes goal-achieving more focused and doable
   Inspired-Actions for each commitment; no confusion in how to take action
A Self-Discovery outline to complete and send me feedback on prior to first call
The 4-Step Time-Management System; utilize to actualize your Rest MasterPlan
4 x 45 minute brainstorm calls to co-create the Reset MasterPlan (a "C" + two "B" goals)
2 x 15 minute check-in calls anytime; emails and texts whenever you need
The Stress is Optional e-Book to close the gap from goal-setting to goal-achieving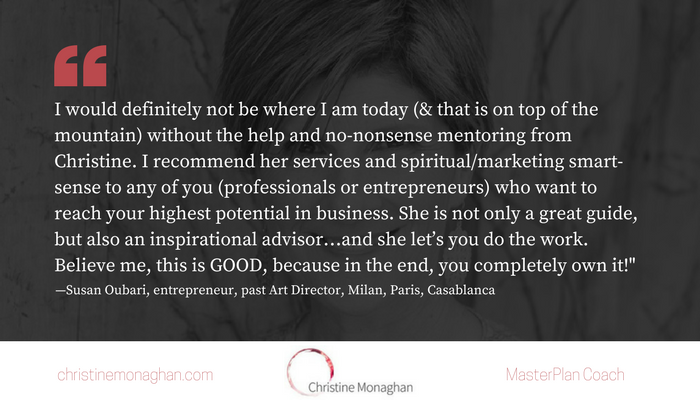 In a Harvard Business School MBA study on goal setting, the graduating class was asked one question of their life goals.
Have you set written goals and created a plan for their attainment? 
Prior to graduation, it was determined:
84% of entire class had set no goals at all
13% of class had set written goals but had no concrete plans
3% of the class had both written goals and concrete plans
The Result?
10 years later, the 13% of class that wrote goals but not plans, were making twice as much money as the 84% of  class that had set no goals at all.
The 3% of class that both wrote goals and a plan, were making tens times as much as the rest of the 97% of class
It's not who you are that holds you back. It's who you think you are not. Bob Proctor