Signature Leadership Blueprint 
…

 you want to become the leader everyone wants to follow
You want to influence your team to access more potential; succeed at new levels
You value being respected, admired by your team; your leadership approach
Being recognized by piers as a champion motivator is non-negotiable
Growing into next best version of you is a leadership competency
You envision a solutions-based vs problem-based culture; possibilities
To cultivate a "Stress is Optional" team culture is important to you
Leading with 100% accountable for your teams results is success to you
You want to create a "lead as you would like to follow" leadership legacy
You need a RESET to grow into the next best version of you
The Signature Leadership Blueprint Package 
This package involves: 1:1 weekly coaching; access to digital eLearning platform courses; integration tools. The process is interactive, invigorating and result-oriented. I will share my proven success principles from immense training with masters such as Jack Canfield, my business acumen and coaching experience with 100's of clients and 1000's of workshop participants and podcast listeners. You will have evergreen access to: All success principles templates; Stress Solutions tools; time-management systems; mindset tools. As you implement these learning's you can influence your team to adopt them as well! Following is what's involved.
Live weekly integration calls x 45 minutes; 4-5 months based on your schedule
Module I

/ Goal-Set to Goal-Achieve Reset MasterPlan

This is a goal-set to goal-achieve system that will up-level all life areas
A, B, C goals; What's a Reset Plan; Discovery exercise for C level goal
Co-creation of  your Reset MasterPlan
Create, print out Game-Changer-Goal Card; use 3-step visualize exercise
Bonus: 3 C's Communication Virtual Workshop + Guide (75-minutes)

This will be scheduled with leadership team or your team for collective up-level
Module II

/ Time-Management Reboot System

This system will be implemented from our first call so you receive and witness benefits from the get-go! Beyond learning how to work on vs in your day and leadership role, this system is the most effective way to surface and transform worn-out habits with minimal discomfort!
Each week we will focus on your Top 5 and daily Top 5
Weekly check-in with Top 5 to empower your solutions-based approach
Time-management exercise; better allocate priorities for balance and results
Learn 5 Non-Negotiable's all my clients have adopted and are thriving with
Implement Monthly Goal-Achieve Schedule once MasterPlan complete
Module III

/ Mindset Up-Level Success Principles

This module assists you in identifying your old-worn out habits by creating and focusing on the opposite habit for fresh results, new levels of leadership influence.
Identify worn-out habit(s) exercise driving stress, minimizing results
Utilize 2 Success Principles; replace fear mindset with inspired-action
Utilize 2 Success Principles; shift from uncertainty to possibility with hurdles

Module IV / Mindset Up-Level Success Principles

Identify worn-out habit(s) driving Stress, minimizing results; Mindset Check-Up exercise
Utilize 2 Success Principles; replace fear mindset with inspired-action
Utilize 2 Success Principles; shift from uncertainty to possibility with hurdles
Module V / Lead as you Would Like to Follow

In this module we will identify your communication commitment as a leader plus one way to practice integration of the commitment on a daily basis. Once you have established this commitment, you can influence your team to create and integrate the same.
Co-create your communication commitment to lead with for balance of year
Identify two challenges you are experiencing with your team and establish simple tools to resolve them
Learn and implement the 15-Minute Solution to create a "lead as you would like to follow" solutions culture with your team
Upon completing the Signature Leadership Blueprint you will have:

100% clarity for who you are becoming as a leader with yourself and team(s)
Established a goal-achieving plan; concise, methodical and inspiring
Transformed time-management for you and your team
Witness team members leading from empowerment and solutions-based approach
Celebrated consistent goal-achieving with your team from success principles
Decreased stress-based habits and culture; replaced worn-out habits
Introduced duplicate systems for your team with noticeable wins
Increased your sense of pride in your team's unified approach and success
Integrated 3 C's Communication in your approach with noted-worthy results
Feel confident, strong, productive and successful in your role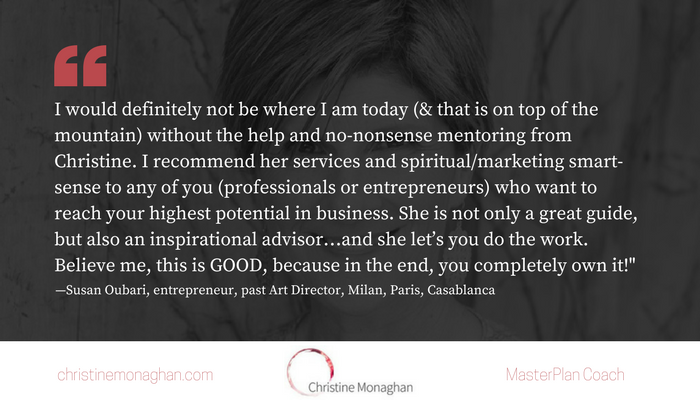 It's not who you are that holds you back. It's who you think you are not. Bob Proctor
Schedule your free 30-minute 1:1 consultation now
http://christinemonaghan.com/free30 
Your team member has a problem they need to solve…
You are the leader who empowers them through a solutions-based approach
You and your team thrives from your unified, methodical, inspiring style
Your philosophy is "lead as you would like to follow"
You and your team are growing into the next best version of self..