The MasterPlan 
…

c

reate your MasterPlan anytime this year to:
Goal-Create with Commitments to work on versus in your life
Goal-Achieve through focused Choices and Conversations for your Game-Changer Goal
Up-level your mindset approach for 100% expectancy to receive what you do want
Be 100% accountable for your results – you only get what you have the capacity to receive
The MasterPlan process gets you from where you are to where you want to be. It takes place via virtual video-conference sessions. It is interactive, invigorating and result-oriented. I share proven success principles from training with masters (Jack Canfield, Bob Proctor). My simple yet powerful system has worked with 100's of clients. The MasterPlan process involves:
Reusable templates: MasterPlan; monthly goal-achieve schedule; Game-Changer Goal Card
A Self-Discovery booklet to carry out prior to initial brainstorm session
The Stress is Optional e-Book to close the gap from goal-setting to goal-achieving
1 x 90 minute brainstorm session to identify your "C" vs "A" MasterPlan goals
1 x 60 minute session: Mindset Check-Up-identify worn-out habits minimizing results
3 x 45 minute review sessions; review action items and refine the plan together
Create, print out your Game-Changer-Goal Card; use the 3-step visualize exercise
Monthly Goal-Achieving Schedule; activate your MasterPlan with inspired-action
Upon completion, your MasterPlan will include:

Your Game-Changer Goal based on your top 5 life-areas objectives
Your #1 Stress Solution Goal (based on Mindset Check-up exercise)
3 personalized Mindset tools based for your #1 Stress Solutions goal
3 personalized Time Management tools for your Game-Changer goal
Revenue stream(s) goal; work-backwards from end goal
Top 3 Prospecting/Lead Generation Methods (for business or personal goal)
Top 3 Systems to implement to work on vs in your business and life
Top 3 Monthly Rewards to motivate you forward

Proven success principles via my training: Jack Canfield / Bob Proctor / Coach training
Increase your leadership skill-set for 1-10,000 individuals
Utilize your MasterPlan template annually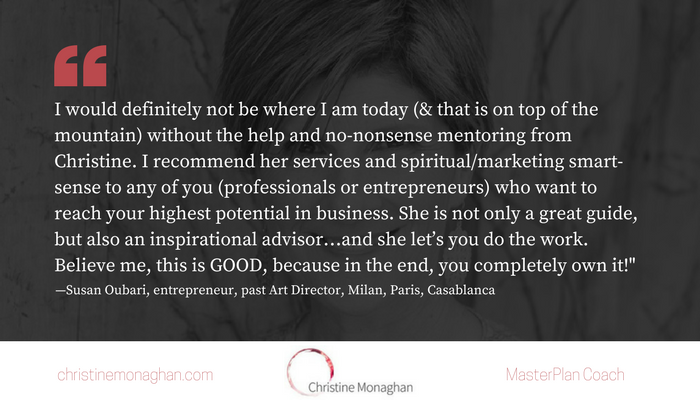 It's not who you are that holds you back. It's who you think you are not. Bob Proctor
Join me for a free virtual workshop
http://christinemonaghan.com/free30 
Someone has a problem they need solved through a product or service.
You have the solution with your product or service.
What a shame if this person's problem goes unsolved…